Jelly Bean leak comes to Verizon's Motorola DROID RAZR M
51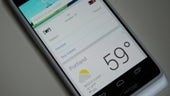 Back when Verizon and Motorola
first showcased
the new DROID RAZR M, DROID RAZR HD, and DROID RAZR MAXX HD, they made it very clear that all three devices would be updated to Android Jelly Bean before the end of the year.
The first device of the pack to be released was the
Motorola DROID RAZR M
last month; with the DROID RAZR HD and MAXX HD coming out on
October 18th
.
Even though the DROID RAZR M has only been available for a few weeks, we're amazed that the first
Android 4.1.1 Jelly Bean leak
has hit the web. The leak (version 98.11.35 XT907) comes to us from @P3Droid over on Twitter, and is 255MB in size. Keep in mind that this
may not be the final version
that Verizon will push out via Over-the-Air, but should give a good indication of what it will feature.
Installing it is pretty straight forward, but please remember that
you won't be able to revert back to the stock ICS that is currently on the phone
, since the DROID RAZR M has yet to be rooted, and there isn't a stock ICS ROM to flash back to.
The first step is to download the file (from here) and save it to your external SD card, not the internal phone's storage.
Press and hold both of the volume keys and the power key at the same time to boot into Recovery Mode.
Once you're in the menu, use the volume down key to highlight Recovery, and press the volume up key to select it.
Then when the next Android Screen is shown, press both volume keys.
Select to apply update from external storage, and select then the file you downloaded Blur_Version.77.111.10.XT907.en.US.zip.
The update process will now begin.
(
UPDATE
: There is now a way to revert the DROID RAZR M back to stock ICS if you wish to do so. Instructions and files are
listed here
).
The folks over at Droid-Life have posted a quick video (see below) of the new Jelly Bean leak running on the DROID RAZR M. There are some changes to the lock screen and notification bar, but the big advantage is having Google Now included and working on the phone.
source:
Twitter
(@P3Droid), and
Droid-Life