Helio unveils its launch lineup of handsets and service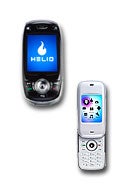 Helio, the new Mobile Virtual Network Operator (MVNO) that targets high-end consumers, has announced some details, regarding its launch in U.S., expected in spring this year. The MVNO introduced the first two mobile phones, which will be available at the time of the launch – the jet-black slider – Hero, specially designed by the Korean manufacturer Pantech for the US market and the pearlescent Kickflip, produced by VK Mobile with specially designed by Helio spring-assisted swivel mechanism that enables it to open to the right or left. Both devices are CDMA phones, equipped with Helio UI. They feature:
2.2-inch QVGA 262k color display

2.0 megapixel camera with flash and video capture

EV-DO hogh-speed data

microSD memory expansion slot

MP3 music player

MPEG-4 streaming video

Mobile Flash for interactive content

full duplex stereo speakers
Helio also announced a partnership with MySpace to offer MySpace Mobile service, which will provide its subscribers with exclusive access to all mobile-focused MySpace applications that allow users to read and write messages, view and post photos, browse profiles, etc. There's still no price information, regarding Helio devices and services.
Source: Helio
Image source: Gizmodo