Have you received the iOS 7 update yet? Let us know when you do!
87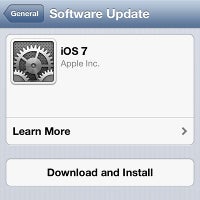 Today is iOS 7 day, and so we're expecting apple to release the latest version of its mobile OS at around 10 AM Pacific Time. Check out
this post
for more info on the release time across the different time zones.
While Apple is known to release its software updates at the same time across all regions (unlike other phone manufacturers), we guess that some users will still be getting their updates a bit earlier than others. Now, if you happen to be among those lucky people, we'd love it if you let us know about it as soon as you get that much-anticipated notification, so that both we and all of our readers can know when iOS 7 has gone live.
You can share the good news with us by tipping us at
tips@phonearena.com
. And be sure to also attach a screenshot of the iOS 7 update notification as proof! (You can take screenshots by pushing the Home and Power buttons of your iPhone, iPad or iPod touch at the same time.)
Looking forward to hearing from you!
READ MORE ABOUT IOS 7