Handy Scanner app for the PlayBook allows you to snap something and turn it into a PDF file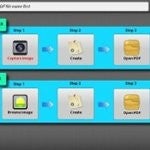 Sometimes, it's a painful process just trying to send an actual paper document you might have to someone. Obviously, this means that you'll need to somehow scan it in with a scanner, and then use software on your computer to convert it to a friendly PDF file. Well, if you happen to be holding dearly to a
BlackBerry PlayBook
, you'll be surprised to know that there is a simpler way.
If you go to the
App World
right now and search for this app called "
Handy Scanner
," you'll be treated to potentially one of the most useful apps for the tablet. As its name so greatly implies, the app essentially allows you to snap an image of something, say an important document of some kind, using the PlayBook's rear camera, which then saves it as a PDF file. Needless to say, it's a quicker way than the old process that you're probably so used to.
Right now, you can download the app for
$1.99
through the App World, but trust us, that $2 price is going to be worth every penny for some owners. Additionally, it's worth mentioning that the app requires OS 1.0.0 or higher to install. Already, the app seems to be hitting it big with PlayBook owners, as it has already made its way to the top paid apps list.
Interestingly, there is also a
similar app available for Windows Phones
as well, which was made available last fall.
source:
RIM
via
BerryReview