Handmark releases two political apps for Android, one from the Left and the other from the Right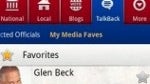 Nothing divides up the U.S. more than politics, and now that Americans are heading to the polls today for the mid-term Election, it is a perfect time for two new apps to appear in the Android Market. PolitiCaster Left and PolitiCaster Right offer political commentary and allow you to share your views.
For those who are liberal or left-wing, PolitiCaster Left offers readers the writings of The Huffington Post, Daily Kos, Think Progress and others who lean to the left. PolitiCaster Right brings users the thinking of The National Review, Michelle Malkin and other conservative authors. Both apps can be downloaded free from the Android Market and are ad-supported.
Users who install either app on their Android phone will have the opportunity to spread their own political thoughts via e-mail, Facebook, Twitter and a unique "Talk Back" feature that allows you to send personal messages to sitting politicians in office from Senators to the President. You can even send a note to personalities in the political media. If you have a message to pass along, here is your chance.
source:
AndroidGuys