HTC's Cher Wang says smartphone market still young, company likely to have a sub-$100 phone at some point in time
1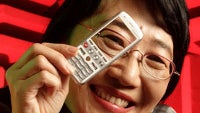 HTC is probably the only huge phone maker with a woman as its co-founder. Cher Wang, established the Taiwanese company as a notebook maker, but later she dreamt of carrying smaller devices and naturally along came a partnership with Microsoft. As some of you might remember, the first HTC phones ran Windows Mobile and only later the company switched its focus on Android.
At the AsiaD conference, Wang gave an interesting inside look at the way HTC developed, first making phones for other companies for nearly ten years from 1997 to 2007, and only then starting production under its own brand.
But most interesting were her comments about the state of the industry. Wang stressed that the smartphone market is still young and it's still too early to say that one company or another dominates it. Also, it's likely to change. HTC, which is known for selling its phones at a very high average price, is also likely to
introduce a sub-$100 phone
as the technology evolves, Wang said. The Taiwanese phone maker is also considering to continue its platform differentiation not only through the HTC Sense skin, but also by integrating third-party software in its phones.
When it comes to
tablets
, Wang mentioned that here the market is even younger. Yesterday's Google numbers confirm that - there were reportedly only
6 million Android tablets sold
to date, a fraction of what the iPad sells. HTC expects the situation to get better and sees styluses as an important differentiator.