6 million Android slates sold so far, Ice Cream Sandwich to make "all apps run great on tablets"
6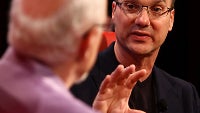 At its sit-down with Walt Mossberg that finished not long ago, Android's Andy Rubin spilled the beans exactly how many Android tablets have been sold so far. He said about 6 million, and that's not counting things like the Nook Color. Last Honeycomb activation napkin formula pegged it at about 4.6 million devices, but a number straight from the horse's mouth sounds catchier.
"
Six million is pretty healthy but it is not 30 million,
" said Andy Rubin. "
Obviously we need to get there.
" The Android apps that are currently made specifically for tablets are few and far between, it was noted. Android's head honcho, however, countered that argument with the premise that
Ice Cream Sandwich is aimed towards unifying the Android smartphone and tablet experience
, and therefore all apps will "run great" on tablets.
Andy Rubin also made a detour to explain that he is not worried about Android tablets that look nothing like it, for example the
Kindle Fire
and the Grid 10's user interfaces. He reiterated that Android has been made an open operating system for anyone to use as they please: "
I think it is fine for Google. It is Android. It adheres to the APIs of Android... I don't view this as some kind of walled garden.
" Andy Rubin pointed out that
Google can reach a point where it makes programs for Amazon tablets
, for example, and that might be a solution to the tablet paradigm as well, helping the Android ecosystem as a whole going forward.