HTC giveth unlocked bootloaders, taketh away your warranty
5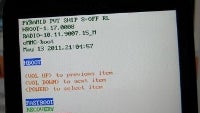 HTC's decision to stop fighting the system and give in to the influx of custom ROMs for their devices officially was a shot of joy for many, when we first heard that it will
start shipping its handsets with unlocked bootloaders
.
The procedure is supposed to be two-step, with
OTA updates flying out for select handsets
to prepare them for the unlocking tool, which is to be released some time this month.
Now HTC released details about said unlocking tool on its Facebook page, and it turns our that you have to agree to
voiding your warranty
, if you are eager to drag your phone through the unlocking process. Here is the whole statement:
"
Since our last update, many of you have asked how the bootloader unlocking process will actually work, and in particular why HTC's most recently released devices still have a locked bootloader. Rest assured we're making progress toward our goal to roll out the first software updates in August to support unlocking for the global HTC Sensation, followed soon by the HTC Sensation 4G on T-Mobile and the HTC EVO 3D on Sprint. Because unlocking the bootloader provides extensive control over the device and modifications may cause operation, security and experience issues, new devices will continue to ship locked but will support user-initiated unlocking using a new Web-based tool.
So how will this work? The Web tool, which will launch this month, requires that you register an account with a valid e-mail address and accept legal disclaimers that unlocking may void all or parts of your warranty. Then plug in your phone to a computer with the Android SDK loaded to retrieve a device identifier token, which you can then enter into the Web tool to receive a unique unlock key via e-mail. Finally, apply the key to your device and unlocking will be initiated on your phone.
"
Not that we've expected anything else, but still it would've been a bit over the top to void your hardware warranty because of a software tinkering. That's why the section where HTC says "
or parts of your warranty
" warms our hearts - hopefully if
the touchscreen starts acting up
, we'll still be able to get it replaced within the warranty period, despite having unlocked bootloaders.
source:
HTC