HTC and Under Armour announce UA HealthBox: a connected fitness system that'll cost you $400
2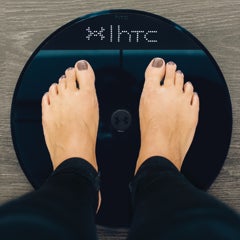 Today, one year after
HTC and Under Armour first unveiled
that they'd work on fitness-oriented products, the two companies announced UA HealthBox, which is a fully connected system designed to measure, monitor, and manage fitness, sleep, activity, and nutrition.
UA HealthBox includes three devices - a fitness band (UA Band), a heart rate monitor (UA Heart Rate), and a smart scale (UA Scale). According to HTC, the system "contains everything a consumer needs to better manage their health and fitness."
Designed to be worn at all times, the UA Band tracks activity, sleep, and workouts, featuring a "discreetly hidden" display, advanced workout mode, and an LED for heart rate (when paired with UA Heart Rate).
The UA Heart Rate is comprised of a chest strap and a removable sensor that monitors your heart rate, and features an "innovative micro snap technology" which makes it undetectable when you workout.
As for the UA Scale, this has a circular design, Wi-Fi connectivity, an LED display, and "a sheet of glass with advanced conductive paint technology that enables weight and body fat percentage readings." The smart scale supports up to 8 users, each with their individual profiles.
All these UA HealthBox devices can be connected to Android and iOS smartphones via the Under Armour Record app, which can be downloaded for free from Google Play and Apple App Store.
HTC and Under Armour will launch UA HealthBox on January 22 in the US. The system is priced at $400, and should be available to pre-order later today via HTC.com, UA.com, and Under Armour Brand House locations. It looks like you won't be able to buy the UA Band, UA Heart Rate, or the UA Scale individually. So, who's interested?
source: HTC