HTC Rhyme Hands-on
16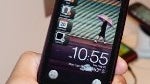 So there you have it folks, all the fanfare surrounding
HTC's press event in New York City
is solely for the fashionable
HTC Rhyme
for Verizon Wireless, which is set to arrive on
September 29th for the usual 2-year contract price of $199.99
. For a device that's packing specs putting it in the mid-range category, it's indeed a hefty price to sport, but then again, it does come included with some interesting and useful accessories.
Much like any of HTC's devices, the HTC Rhyme's design footprint follows the same premise with its
solid metallic casing
and soft touch patches. Of course, the
plum purple color
is definitely something different from the usual gunmetal and white colors normally used by many of HTC's handsets. Both lightweight and compact in form, it feels relatively good in the hand with its balanced form. Sure it might not impress those who currently own a recent HTC smartphone, but we're always glad to see it radiating that sense of premium feel with its construction.
Considering it sports a
single-core 1GHz Qualcomm S2 MSM8655 processor
, coupled with 768MB of RAM, it doesn't take much running the
new Sense 3.5 UI
. Even though it still maintains all of the functionality and appearance we love about HTC's lovely customized interface, we only see a subtle facelift to some of its widgets – like the clock one. Also, a new dynamic looking widget combines things like your messages, pictures, calendar and mail. However, it still embodies all the aspects we know and love about Sense in general.
Besides the actual handset, HTC made sure to tout about all of the
Rhyme's accessories
– such as the docking station, armband, Bluetooth headset, Charm notification attachment, and tangle-free headphones. Unfortunately, most of them were tucked away under glass with the exception of the
Charm notification accessory
. To tell you the truth, the concept is neat with the Charm, especially when it pulsates or glows for different thing. Still, the biggest gripe we see with this is that it's still
attached
to the phone – albeit, it would've been neat if it were a wireless thing instead.