HTC One mini 2 size comparison: mini to the maximum
9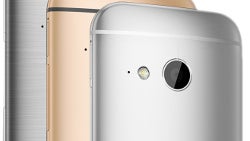 HTC has just taken the wraps off its
One mini 2
, its new elegant and compact mid-range handset. The One mini 2 has improved in all aspects from its predecessor, as now it's coming with a slightly bigger, 4.5" 720p display, a Snapdragon 400 system chip and a 13-megapixel camera, but this minute increase has also made it even larger.
How compact of a mini is it? We put it in our size comparison tool (that you can use yourself to compare the sizes of all kinds of different phones), and it turns out that it's one of the largest 'mini' phones out there. That, however, should not be all that much of a surprise - after all, last year's 'minis' in the form of
HTC's original One mini
and
Samsung's Galaxy S4 mini
averaged 4.3 inches in screen size.
This year, the One mini has grown to a 4.5" display, and that brings an increase most notable in width. Still, if you compare HTC's stylish new mini 2, it's actually narrower than its more recent 4.5" competitors like the Moto G. But enough describing what can be best seen in pictures: take a look right below to see how big the HTC One mini 2 compares to its rivals in size.