HTC HD7 might hit AT&T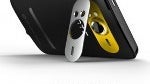 The HTC HD7
, a 4.3-inch-screen Windows Phone 7 powerhouse exclusive to T-Mobile, might end up
on AT&T
as well in the near future. A device featuring almost identical characteristics as the HTC HD7 passed
FCC
approval with the WCDMA Band V and II radios, which hints at AT&T's HSPA network.
The handset carried the model number PD29130, just a digit apart from the PD291
1
0, which seemed to be the model name for T-Mobile's HTC HD7. Combine all these facts and you arrive at a conclusion that this would either be an AT&T-branded/compatible HD7 or just an HTC HD7 model slated for an overseas release as sometimes these pass approval as well. While we certainly
hope
that the first guess is right, we cannot be sure just yet.
The HTC HD7 is the only handset sporting a 4.3-inch display in the Windows Phone 7 lineup and it was definitely in high demand as it
was put on backorder
just hours after its launch. The device was reported to
experience the "death grip"
issue and lose signal, but HTC was quick to
dismiss the problem
and say that performance should still be
sufficient
for proper operation when you have adequate coverage. And even though AT&T already features three WP7 phones,
the Samsung Focus, the HTC Surround
and the
LG Quantum
, we would love to see even more variety at the U.S. second biggest carrier.
source:
FCC
via
Pocketnow