HTC responds "you're holding it wrong" about HD7 antennagate issue
8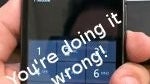 HTC HD7
is one of the key devices for Windows Phone 7 as it is the only phone with a charismatic extra big 4.3-inch screen, but just few weeks after its release
reports showed
that it is experiencing iPhone-like "death-grip" problems. It took just a couple of days for HTC to respond to the accusations, but the response hardly gives any new information.
Actually, the Taiwanese phone maker's official statement echoes Apple's earlier comments:
"Quality in industrial design is of key importance to HTC. To ensure the best possible signal strength, antennas are placed in the area
least likely
to be covered by a person's face or hands while the phone is in use."
"However, it is
inevitable
that a phone's signal strength will
weaken
a little when covered in its entirety by a user's palm or fingers. We test all of our phones extensively and are confident that under normal circumstances reception strength and performance will be more than
sufficient
for the operation of the phone when network coverage is also adequate".
That seems like a complicated way of saying "avoid holding it that way" and while we certainly appreciate that HTC released an official statement, this is hardly going to comfort affected owners of the HTC HD7.
Earlier, when the antennagate issue first surfaced around the time of the launch of the iPhone, HTC claimed that "reception problems are certainly not common among smartphones", but the last statement indicates a change in the tone. Let us know your opinion, is the "death grip" a deal-breaker for you?
source:
IntoMobile