HTC First announced, pre-orders live, releasing April 12 for $99
32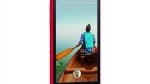 Along with the official announcement of
Facebook Home
, we've gotten the phone we expected as well. HTC's Peter Chou came out near the end of the event to show off the HTC First, which will be the first device that has Facebook Home baked-in. The HTC First will be exclusive to AT&T and will release the same day as Facebook Home on April 12th, although pre-orders for the phone are live today.
The majority specs of the phone were not given in the press release. The only specs listed are the 4.3" screen, a dual-core Snapdragon™ 400 processor, LTE, and Android 4.1, which matches the launch price of just $99.99. We have seen
leaked specs
that claim the 4.3 inch screen will have a 720p resolution, and that the phone will have a 5MP camera on back. And, as expected, the device will come in four colors: white, black, red, and blue.
Interestingly, Peter Chou said that because Facebook Home is baked-in, there will be some exclusive extras, like getting your normal e-mail notifications through Facebook Home. Also, while the phone is exclusive to AT&T in the US, Zuck said that HTC is working with EE and Orange to bring the phone to the UK.
Along with the announcement, AT&T has put up some short videos to show off Facebook Home, which you can see below.