HTC First Review
12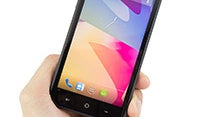 Introduction:
Already taking a stab at the so-called "Facebook phone" in devices like the
HTC ChaCha
and
Salsa
, which merely employed dedicated Facebook buttons for quick access to certain functions of the app, veteran smartphone maker HTC is once again taking helm in delivering the next Facebook phone. This time, however, Facebook as a company in itself is taking a more profound leadership with this latest venture, seeing that there's an overhaul with the actual Facebook experience. Tagged as the first phone to offer the all-encompassing Facebook experience, the
HTC First
seems like the no-brainer device for hardcore Facebook users, but will it have enough uniqueness to call its own, so that it's a compelling choice over other devices that are bound to also get treated to the new Facebook Home experience?
The package contains:
microUSB cable
Wall Charger
nano-SIM removal tool
Quick Start Guide
Product Safety and Warranty Guide
Design:
Always known to deliver the goods when it comes to design, we have to hand it to HTC yet again for concocting a very minimalist and compact design with the HTC First. No, it's not as stylish as the HTC One, but regardless of that, we appreciate it for its sturdy construction and pancaked look – meaning, everything is simply flush with nothing protruding out of it. Sporting a bezel that's rounded to offer a pleasant grip in the hand, which is further complemented by its soft touch matte finish, we're still trying to process that this thing is packing along a once perceived to be large sized 4.3-inch display. It's big enough to enjoy, but not too big or heavy (124 gr) to hold. Better yet, it's wonderful to know that the HTC First is available in different colors from the onset to give consumers a level of choice that not too many handsets in its price category are subjected to.
Along the bottom of the display, we're presented with the usual trio of capacitive buttons – the back, home, and menu keys. By default, the home button jumps us back to the main screen of Facebook Home, but it can also get us back to the standard home screen when Facebook Home is disabled. Other functions of Android, such as accessing the multi-tasking pane and Google Now, are done by double tapping and long pressing the home button respectively. Above the display, there's an unusual sized 1.6-megapixel front-facing camera that's capable of shooting 720p video.
Taking a tour
around the edges
of the HTC First, there's nothing particularly out of character, as it sports a power button, volume control, 3.5mm headset jack, noise cancelling microphone, microUSB port for charging/data connectivity (no video-out), nano-SIM slot, and microdots that hide away its standard mic and internal speaker. Despite the flush feel of its power button and volume control, it's nice to find a springy response with them.
On the back side, we continue to see the consistency with the HTC First's flat design, as the f2.0 lens of the 5-megapixel auto-focus camera and LED flash are flush with the surrounding area. Just like many things nowadays, it features the predictable 1080p video recording. Depending on your taste, you might not like the closed design of the HTC First, which means there's no access to the battery. At the same time, we're somewhat not too surprised by the lack of a microSD slot with this one, as it's increasingly something we've been seeing from HTC's lineup.
Display:
Wrapping our heads around the fact that the HTC First is sporting a fine looking 4.3-inch 720 x 1280 S-LCD 3 display, we're humbled most that it contributes to a very pocket-friendly handset. Indeed, it's not as captivating or jaw dropping as other recent displays, but it's effective enough for our eyes to handle. At a pixel density of 341 ppi, it's undoubtedly detailed enough to give everything that tasteful level of clarity, and at the same time, we can't complain about its neutral color reproduction. However, its brightness output isn't strong enough to repel the harsh glare of direct sunlight. Nevertheless, we're content with the overall package. It's big, but not too big. Also, it's not too overpowering to the point that it's taking away from the star of the show – the new Facebook Home experience.
HTC First 360-Degrees View:
Recommended Stories