HD video with the Nokia N9 in various lighting conditions stitched in a two-minute clip
10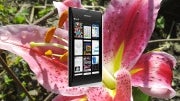 A nice video compilation and some pictures, showcasing the Nokia N9 8MP camera capabilities, have been uploaded by Nokia's Bill Perry, with the pre-production version in hand, and the results are looking good.
Bill only used Adobe Premiere Pro CS4 to sync the music to the clips, but no other corrections of any kind have been applied to the results. He also posted three pictures, which we are embedding below.
The pictures and video below are taken with a prototype version of the
Nokia N9
, which still has to see the final firmware, but it looks like Nokia was right when it said they t
ried to cram the Nokia N8 experience in the smaller module of the Nokia N9
.
The pictures and video still come oversaturated, though, compared to the natural-looking colors on the Nokia N8, but most people enjoy richer colors anyway, plus the continuous autofocus seems to work like a charm.
source:
mobileperry
via
TheHandHeldblog
Nokia N9 - Video Example from Bill Perry on Vimeo.