Griffin opens its first retail store in London just in time for the summer Olympics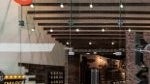 We've seen our fair share of cool smartphone accessories from
Griffin
, like a couple of
iPhone-controlled helicopters
and a
few ruggedized cases
, but in order to check out some of the cool gear offered by them, one would normally check out their web site. Obviously, it's nice that you'll be able to gather a lot of information pertaining to products from the web site, but it doesn't quite beat checking them out first hand.
Well folks, if you're planning to fly abroad and check out the
summer games in London
, you might want to check out Griffin's very
first retail store
that's opening in the UK– just in time for the summer Olympics games. Actually, the interactive store is located in Westfield, Stratford City, where customers are invited to experience all of the various products offered by Griffin.
Tallying up at
1,500 square feet
with an impressive 30-foot glass storefront, the Griffin store also features a
Charge Bar
at the left of the entrance – giving visitors the chance to juice their devices while scoping out all of the cool gear. Furthermore, there's an interactive area where customers can actually test out some of the products – like seeing how well your iPhone will survive using Griffin's Survivor cases.
So if you'll be around the area and want to check out something tech-related while enjoying the summer Olympics, you should head on over to Griffin's first retail store, which is directly across from the Olympic Stadium.
source: Griffin
Recommended Stories