Griffin HELO TC Assualt hands-on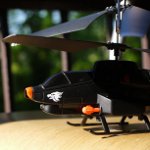 It's not the first time that we've played around with a
smartphone controlled helicopter
, as we've checked out the
Swann iFly Micro Lightning for the iPhone
very recently. However,
Griffin's HELO TC Assault
is banking on a couple of unique features to make it stand out over other comparable models out there.
First and foremost, the Griffin HELO TC Assault is
compatible to work with both Android and iOS devices
. However, it requires us to use the included IR adapter, which requires 4 AAA batteries in order to work. And to tell you the truth, it doesn't help when they're not included with the packaging. Despite bulking up our iPhone 4S, we like how we're able to comfortably hold the handset in place while controlling the helicopter.
Secondly, the HELO TC Assault is different from most RC helicopters for the fact that it's able to
launch two separate missiles
at a target by merely pressing the appropriate on-screen buttons with the HELO TC app. Initially, we found it a bit difficult trying to maneuver the helicopter with the default controls. However, switching to the expert control scheme, which essentially provides for more manual controls, we find ourselves enjoying the experience in flying and firing its missiles.
At
$59.99
, there's no arguing that the Griffin HELO TC Assault will provide most people with a lot of fun, even more when it's compatible with a wide array of devices out there. And on top of that, there aren't that many RC controlled helicopters out there in the market that can launch missiles at a quick tap of an on-screen button.