Griffin Survivor Military-duty case for iPhone hands-on
7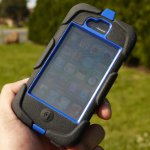 Seriously people, it's bound to happen at one point or another, mainly because it all happened to us before and the outcome causes more frustration than anything else. So what are we talking about? Well, it's those unfortunate events when we drop out devices – like onto the hard pavement or ground. Luckily, if you own a recent iPhone (4 or 4s), you'll be glad to know that accessory maker Griffin has something that might pique your interest.
With the
Griffin Survivor Military-duty case
for the iPhone 4/4S, you can sleep knowing that your prized device is in good hands for those scary moments. For starters, this thing meets and exceeds the
US Department of Defense Standard 810F and UK Department of Defense Standard 00-35
, which enables it to protect the iPhone against dirt, sand, rain, shock, vibration, and an array of other environmental hazards.
Gone is the streamlined look of the handset, but naturally, the
added bulk
simply protects the iPhone from nearly everything. Of course, we can lament on how it transforms the iPhone into a massive device, but rest assured, it managed to keep it in pristine condition after being dropped from heights of 3 and 5 feet – onto a solid surface. Thanks to the
rubbery outer shell
, it simply took a single bounce and landed safely afterwards. The second component of the case, the s
hatter-resistant polycarbonate frame
with built-in screen protector, keeps nasty baddies such as dirt, water, and other items from coming in contact with it. However, it's worth noting that it isn't necessarily water proof, but rather, just
water-resistant
.
Normally, hulky cases like these tend to make it extremely difficult to access the iPhone's ports and buttons, but Griffin made sure to keep everything in good reach. Not only are buttons springy as ever, but we also appreciate the cutouts for the camera, 3.5mm headset jack, and charging port – making it super easy to access. All in all, if you can overlook its sheer size, the Griffin Survivor Military-duty case is pretty decent for
$50
. Well, it beats having a broken iPhone and spending a fortune on replacing it.