Gresso with a luxurious phone for the ladies
2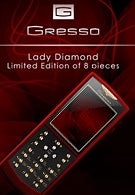 Hearing the Gresso brand almost instantly reminds us of their luxurious phones, which are not for everyone's pocket. Usually, the company releases its phones in a really, really limited quantities; for example, the
Avantgarde Skeleton
- 15 units, the
Skeleton Gold
– 50 units. Now, the manufacturer has announced that it has prepared a new model, specially designed for the ladies – the Lady Diamond, but unfortunately, it will see the light of day only on the Russian market. It very much resembles the other two devices that we mentioned above, only that its color is red. Imagine how a lady with a red dress steps out of a shiny limousine and with a graceful walk (as if in slow-
motion
) takes the Lady Diamond out of her pocket and… but let's talk about the phone itself. The four navigation keys will now be decorated with diamonds, and the rest of the keys, as well as the triangle above the screen, which is typical for the Skeleton phones, are made of 18K gold. In addition, the display is again covered with a hand-polished 42K sapphire glass, which can be also found on the back side, revealing the inner mechanisms of the phone.
According to the press release, the
Gresso Lady Diamond
should have hit the retail stores today, offered at a price of about $5235. If you indent to make your better half happy with this phone we recommend that you hurry up, because there are only
8 units
of it.
source: Gresso
Invalid image meta