Google says these 18 apps best display Material Design
13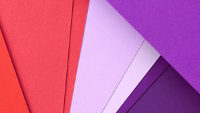 As
Material Design approaches its first birthday
, Google has decided to honor those third-party apps that show it off the best. These include apps like the New York Times, which was cited for "elegant typography", Tumblr whose "delightful animation" caught the eye of the Google team, and B&H Photo Video which took the prize for "immersive industry."
Other award winning apps include Pocket (winner for "adaptive layouts"), Pocket Casts (winner for "seamless browsing"), and Weather Timeline (winner for "crafted simplicity"). The other apps cited did not win any specific awards, but were still noted for its use of Material Design. These include BuzzFeed, Circle for Bitcoin, Evernote, GroupMe, Indiegogo, Instacart: Grocer Delivery, Lyft, Runtastic Running, SeriesGuide, Telegram, The Hunt-Style and wiMAN Free Wi-Fi.
Did Google make the right choices? Are these apps the most representative of Material Design? You can check them out by clicking on the sourcelink, which will take you to the Google Play Store where you can check out all 18 apps selected by the tech titan. As usual, your comments on Google's choices are welcome.
source:
GooglePlayStore