Google posts Android 4.2 factory images for CDMA Galaxy Nexus
2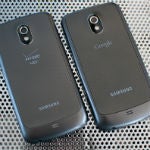 If you're a really big fan of modding your smartphone, then you're in luck, because Google has posted the Android
4.2
factory images for both variants of the CDMA Samsung Galaxy Nexus. This means that both Verizon and Sprint users can now easily flash back to stock if they happen to try a new mod and something goes wrong.
The factory image of Android 4.2.2 for the Verizon Galaxy Nexus has been posted, as has the factory image of Android 4.
2.1
for the Sprint Galaxy Nexus. Yes, that's right, the Sprint Galaxy Nexus is now the odd man out as the only variant of the Samsung Galaxy Nexus that hasn't been updated to the very newest version of Android.
Even better for modders, the driver binaries have also been made available, and those are always a sticking point for custom ROMs. Driver binaries make custom ROM work much easier.