Google extends free voice calls via Google Voice through 2012
6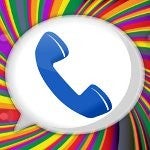 Bringing a lot of joy to many people all around the world, Google announced wonderful news that will put a smile on all of those
Google Voice
users out there.
You probably have a Google Voice number already, or maybe two, or possibly three, but whatever you have, there's no kidding that it has a lot of usefulness in our daily lives. Although we don't think about it all that much, you have to admit that the
free
nature of the service is undoubtedly what makes it one-of-a-kind. However, we can't forget that the free times aren't going to last forever.
Well, that's why the Mountain View based company announced that they're
extending
free domestic phone calls within the US and Canada for the entire 2012 calendar year. You heard that right people, you can still place Google Voice calls through the Gmail portal online for free – and you don't have to worry about paying for the service!
You can't beat that, right?
source:
Google
via
Phonescoop