Google distributes NFC decals to Portland businesses
1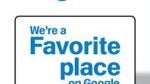 Google is expanding their
Hotpot
and Places marketing services with an exciting pilot program in Portland, Oregon. They will distribute Places kits to local businesses, that will include tips on boosting their online presence, as well as
NFC
(near-field communication) decals that say "Recommended on Google."
These NFC decals will be able to communicate with the new Google Nexus S device, taking customers to that business' Places page on their device. This program should offer us a taste of what it will be like to have NFC capability with businesses and advertisements (among other things).
Locals are encouraged to stop by the Voodoo Doughnut this Saturday at 10 a.m. for a special treat of some kind. We imagine it will be a demo of the Nexus S, or perhaps special discounts to the recommended Places in Portland.
In step with the launch of the Nexus S (December 16), Google is hosting a Hotpot/Places competition. The five people that rate the most Google-recommended businesses in Portland will receive a free dinner for 10 to any local restaurant. NFC is already exciting, but free food is icing on the Gingerbread cake.
source:
Electronista