Google developer page confirms Android 4.3 just before I/O starts
13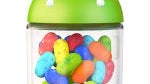 We're just a few minutes away from the start of Google's marathon keynote address for Google I/O 2013, and already we have an inadvertent leak of some interesting information. There have been constant rumors that Google I/O would have the reveal of another incremental update to Android Jelly Bean, and confirmation of Android 4.3 has popped up on a Google developer page.

The page was the Android security enhancements page, but it wasn't live for very long. Still, it was cached, which allowed watchful eyes to find it and screencap it. So, Android 4.3 is real and is on its way, but we don't know anything new about it. We had learned previously that Android 4.3 will bring support for Bluetooth Low Energy and the OpenGL for Embedded Systems 3.0 graphics specification.
Only 20 minutes until the keynote, so we're sure we'll get more info then. Be sure to either tune in to the
Google I/O keynote
, or check out our
liveblog
.