Google creates symptom cards to bring out your inner hypochondriac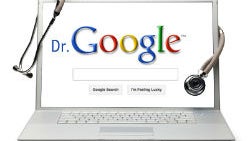 Google has always been the destination for those of us out there who are feeling under the weather to search for our symptoms. The reasons for this usually are either to find out if whatever sickness we have is serious enough to bother going to the doctor, or if we need to start making a Last Will and Testament. Now, Google has made it easier to find out.
Google has introduced new Knowledge Graph cards for the times when users search for symptoms. The cards will offer related symptoms depending on what you are searching for, and an overview description along with information on self-treatment options and even suggest when you might want to visit a doctor. The results have all been vetted with the help of a team of medical doctors and experts at Harvard Medical School and the Mayo Clinic.
Google said its goal is to help users "navigate and explore health conditions related to your symptoms, and quickly get to the point where you can do more in-depth research on the web or talk to a health professional." But, Google does make it clear that it is not a substitute for a real doctor, no matter how much you may hate going to a hospital.