Google Voice being tested/prepped for international launch
3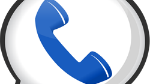 Google Voice is like telephony gold. It is an amazing product, and the deep integration in Android makes GV one of the killer apps on the platform. Unfortunately, as of now it's only available to users in the US, but it seems like an international release may be on the horizon. The Next Web was told by Google's European Director of Business Development, Jens Redmer, that Google Voice is currently in internal testing in Europe.
Of course, testing isn't really the hurdle that Google needs to get past in order to launch Google Voice internationally. It needs to secure phone numbers and mobile access for the service, and possibly make deals with carriers for number porting or deeper integration as it did with
Sprint
. But, Redmer says that Google is taking "concrete action" to get GV rolling internationally.
Google Voice is a great service that includes cheap international calling rates, free SMS (although no MMS), call forwarding, (slightly wonky) voicemail transcription, and a lot of deep controls for handling multiple devices, contact groups and more. We're hoping it makes it out of the country soon, but as of now there's no timetable for an international rollout and Google doesn't tend to announce anything until it's done.