Google Play now highlights apps that are Chromecast-ready
2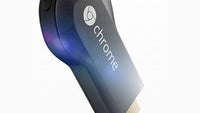 The current selection of Chromecast-ready apps is small, but it does carve a new way for Google to promote its TV-dongle as the search giant prepares to release the Chromecast SDK soon.
Right now, only a select few content partners have the "cast" button on their apps offered in the Google Play store, seven to be exact: HBO GO, Pandora, Hulu Plus, Netflix, YouTube, Play Movies and Play Music.
Once the software development kit is finally released for all developers to utilize, we will see the scope of Chromecast expand considerably. This will include applications for iOS as well. While it would be cool to see Chromecast expand even further than that, we are not holding our breath.
To check out the selection of Chromecast-ready apps, go to Google Play, select "Apps," and then look in "Categories." From there, you will see how Chromecast is positioned. There is also a video tutorial about how to set the dongle up on your TV.
If you have not had a chance to pick one up, Chromecast will make a great stocking stuffer, and it only costs $35. The set-up is super easy and it works with Android and iOS devices. If you need more convincing,
take a look at our review of Google Chromecast
.
via:
Android Authority
Recommended Stories