Google Pixel and Pixel XL: all the official images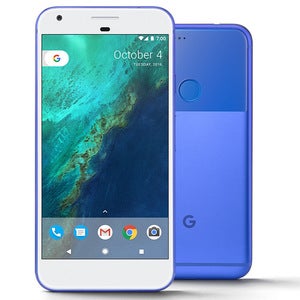 A contraction of the phrase "picture elements", a
pixel
can be defined as the smallest single point in a raster image. Doesn't sound as exciting as Google's new phones, does it? The Pixel and
Pixel XL
are powerful, pretty, and packed with peculiar features, including the new
Google Assistant
and Google's Pixel Android launcher.
Alas, it will be a while until they reach the masses. Although the Google Pixel and Pixel XL are now available for pre-order, the two phones are expected to ship on October 20 at the earliest. And the blue model is shaping up as the elusive member of the bunch, as it is already out of stock. Still, you can take a look at it in the gallery below. In fact, all of the new Pixel phones are in there – pictured from all sides and angles.
In case you haven't been following the news, the Pixel and Pixel XL come with 5- and 5.5-inch displays, respectively. They're built of metal and glass, with a fingerprint scanner positioned at the back. Under the hood ticks a Snapdragon 821 SoC, and the super-fast camera at the back promises excellent photos in all kinds of light conditions.
Which of the new Pixel phones is your favorite? Let us know in the comments!