Deal: Google Pixel 2 XL comes with $100 store credit, free Home Mini speaker
4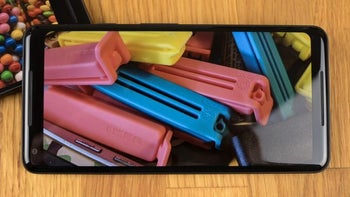 There's been no shortage of
Google Pixel 2
and
Pixel 2 XL
deals lately, but most of them involved
Verizon-only models
, requiring 2-year commitments. Fortunately, there is now also a deal for folks planning to buy an unlocked Pixel in the US.
Google is currently offering the Pixel 2 XL with $100 store credit and a free
Google Home Mini
smart speaker, no strings attached. You can receive $100 in Google Store credit only if you're buying a Pixel 2 XL before May 14, 2018, at 11:59 pm PT. As for the Home Mini speaker (normally priced at $49), this is offered for free with purchases made until June 30, 2018, at 11:59 pm PT.

In case you're wondering, Google Pixel 2 XL prices haven't changed since launch ($849 - 64 GB version, $949 - 128 GB version), so this is still an expensive device. At the same time, the Pixel 2 XL remains one of the best smartphones on the market, so you can't expect it to be cheap.
If you want to buy the smaller
Google Pixel 2
(not the XL model), we're sorry to inform you that this doesn't come with any freebies, or at least not at this time.