Google Now adds new cards for car rentals, NCAA Football and more
6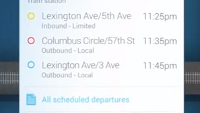 Google has added some new cards to Google Now as an update has started making its way to devices running
Android 4.1 or higher
. New cards coming with the update support concert tickets, car rentals, public transit and NCAA Football scores. The latter comes just in time with the imminent kick-off of the new college football season. A new function has been added to Google Now that allows you to leave a reminder to watch a television show that you have searched for.
Let's go into some more detail about the new cards and features. The car rental cards will pop up with information about the reservation along with directions to the rental center. Combined with your boarding pass card and hotel reservation cards, Google Now makes sure your trip goes smoothly. The update also allows you to have your concert ticket show up on a card along with information about local websites including the events page for the concert's venue. The card shows the row and seat numbers where you will be sitting.
The updated Google Now will even allow you to send a message to your family when you are leaving work at the end of the day. If you use public transit, Google Now will alert you to when the last bus or train is leaving so that you don't end up stranded in the big city all alone. When searching for a specific television show, actor or artist, you can select to be reminded when the specific show or actor or musical artist is going to appear on television. Even if your favorite author has written a new book, Google Now will let you know.
If you're a news junkie, you are going to love this new feature. If you have a smart television, tap on the card and you can have Google Now track the music or news stories mentioned on a particular show, and send you relevant cards. If you don't have a smart boob tube, tap on the microphone icon and say "listen to TV."
Google really has done a remarkable job with Google Now. Just about everyone regardless of what they are in to, can find something useful about the application. And don't forget iOS users, Google Now is also available in the Apple App Store, although this update is only for the Android version of the app.
source:
Google
, GoogleNow (
Android
|
iOS
), via AndroidCentral