Google Nexus X (Motorola Shamu) with Android L caught in the wild?
90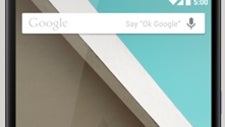 As you may have already heard, Google is getting ready to launch the largest Nexus smartphone ever: a 5.9-inch handset manufactured by Motorola. Previously known as Motorola Shamu, or
Google Nexus 6
, the device
will most likely be released
as the
Nexus X
.
Last week, we showed you what's believed to be
the first in-the-wild photo
of the Nexus X. While that photo only showed the handset's back, we now have another image that allegedly allows us to take a look at a working Nexus X from the front.
Posted by Android Police, the new photo shows the device running Android L. The handset is protected by a snap-on cover, and is obviously huge - apparently
larger than most users would want it to be
. Design-wise, the Nexus X seem to be a scaled up version of Motorola's Moto X, so it's got dual front-facing speakers. The 5.9-inch display of the handset reportedly has 1440 x 2560 pixels, while other features should include a quad-core Snapdragon 805 processor, 13 MP rear camera with Optical Image Stabilization, and a 3200 mAh battery. As mentioned a few days ago,
the Nexus X may also come
with new Google Apps folders.
We're expecting the Nexus X to be officially introduced by Google later this month. Stay tuned for more details as we get them.
Update
: We added another photo that provides a better view of the giant smartphone!
source:
Android Police