Nexus X render claims to show off the device and the new Google Apps folders
63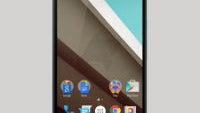 We've been hearing rumors about the Nexus X (aka the Nexus 6) for quite a while, and about one month ago, the rumors gave way to leaks from sources close to Motorola. As was recapped in our
round-up
, there is quite a bit of information out there about the Nexus X, including specs, and design. We have known for a while that it will feature a 5.9-inch display running at full QHD (2560x1440) resolution. We've also seen specs showing a Snapdragon 805, a 13-megapixel rear camera, a 2-megapixel front camera, and Android 5.0. We've even heard that the design would essentially be like a
scaled up Moto X
.
None of that is new information, and most of it we had confirmed through our source at Motorola, though a new report from
Android Police
is claiming that it can "confirm" these specs based on information from an undisclosed source. The only new additions to the specs info that we had is that the rear camera will have optical image stabilization (OIS), and the battery will be 3200mAh.
AP
is also saying that unlike the Moto X, the two grills on the front of the Nexus will be stereo speakers. There is also still uncertainty if the name of the device will be the Nexus X or Nexus 6. As we reported before, Google and Motorola were planning to avoid the Nexus 6 name because of legal issues related to
Blade Runner/Do Androids Dream of Electric Sheep?.
But, the interesting part of the report is a render of the Nexus that
AP
put together, apparently based on a description from the source. As expected, it looks like a big Moto X with the power and volume buttons moved lower on the body. The home screen is the interesting part, though. As usual, it is filled with Google apps, but there are some interesting changes. Alongside the Google folder is now a Drive folder, which includes the Drive app, as well as the companion Docs, Sheets, and Slides apps. Then there is also a Play folder, which seems to house Play Music, Books, Movies & TV, and Newsstand. The one piece that can't be so easily figured is the new messaging app logo. It could be that Google is changing the Hangouts icon, but Hangouts just got an update and is solidly in the green color theme, which doesn't make sense with this icon.
There is still no word on pricing or release. Some rumors have put the Nexus phone release around Halloween again, and some are saying it could happen in mid-October. We'll have to wait and see.