Motorola Shamu / Nexus X photographed next to LG's G3?
73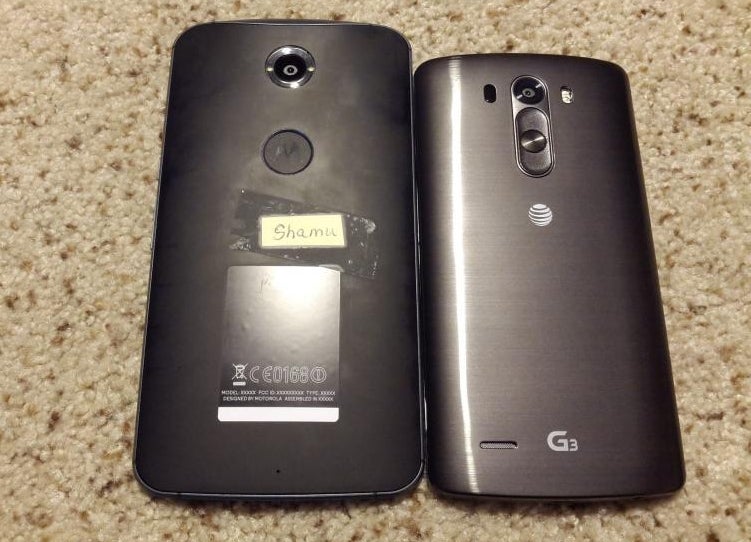 If the photo that's embedded above is legit, what we're seeing next to the LG G3 is the unannounced Nexus X, aka
Motorola Shamu
. The exact origins of the photo are a bit hard to track, but it seems that it was first posted by a commentator in response to a couple of articles found at Android Police and Droid-life. According to the person who posted the image, the Nexus X / Motorola Shamu is headed to Verizon Wireless (though it will almost surely be sold unlocked as well).
As you can see, the alleged Nexus X resembles the second-gen
Moto X
, and is considerably larger than the 5.5-inch LG G3. That's because, as
we told you back in August
, the new Nexus sports a 5.9-inch display. Obviously, a 5.9-inch handset will be too big for some customers. But Google is planning to launch it anyway, because
it likely doesn't care
about what users want from the Nexus line - as long as there are lots and lots of other Android smartphones on the market.
As we previously told you, the ultra-large screen of the Nexus X should feature a 1440 x 2560 (Quad HD) pixel resolution. Other expected features include a 12 MP (or 13 MP) rear camera with 4K video recording, quad-core Snapdragon 805 processor, and 3 GB of RAM. The new handset could be officially announced in October, and should be released shortly after that. Well, we're waiting!
sources:
Droid-life
,
Android Police