Google Nexus 6 Review
74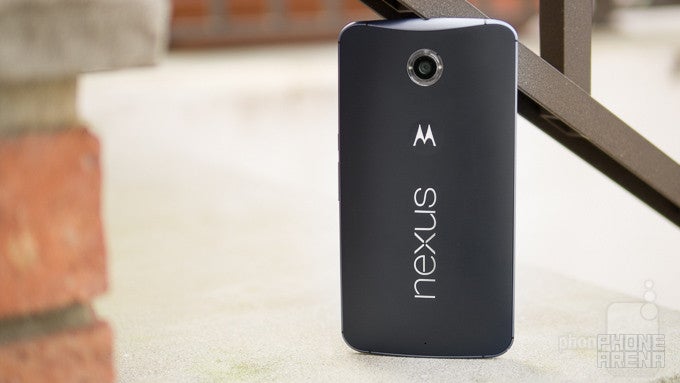 Introduction
This year's announcement of Nexus devices has been nothing short of exciting, seeing that Google has announced not just one brand new product in the series, but two, in order to continue diversifying its portfolio. We've already taken a deep look at the
Google Nexus 9
- a modestly designed tablet that's oozing with delicious hardware under the hood, and a decent price tag.When it comes to its phones, Google has a history of offering them at super-aggressive prices. However, with this year's new product, the aptly named
Google Nexus 6
, not only do we see a reversal in its price point direction, but also a new name in charge of manufacturing the device.
This time around, Google has commissioned Motorola to take up the task of making the Nexus 6, which interestingly enough, looks very similar to the
new Moto X
– released not very long ago to the delight and disappointment of some. Attached with a starting cost of $649.00, the Nexus 6 is undoubtedly a stark reversal to what we've been accustomed to, but there's no denying that it's shaping up to be a formidable smartphone that's bubbling at the seams with an impressive specs sheet. Add to that Google's brand new Android 5.0 Lollipop experience, which is the biggest overhaul to the platform in a long time, and it's solidifying itself to be a strong candidate in the ever expanding, competitive smartphone space.
The package contains:
Quick Reference Guide
Product Safety & Warranty Brochure
Wall charger
microUSB cable
Design
Say bye-bye to the humble designs of past Nexus smartphones, and hello to premium construction! Seriously, though, it looks like a larger, stretched out version of the Moto X (2014).
Remembering Nexus' past, it's intriguing to see the design direction that each manufacturer has chosen to take with its product. From premium designed ones like the iconic
Nexus One
, to the humble design language of the
Nexus 5
, it's quite obvious that there's no consistency with the line. With Motorola taking the helm with the Nexus 6, rather than delivering a new design, they've instead opted to copy an existing one – their very own smartphone in the Moto X (2014).
The resemblance between the two is profound, seeing that the Nexus 6 employs the same exact design language as the Moto X, which includes things like its metal trim accent, arched form factor, and plastic casing. The result is a Nexus smartphone that exudes a stronger premium presence than the last two models in the series – a stark reversal no doubt, but one that assures to us that there's a high-quality, sturdy emphasis with its construction this time around. We've even dropped the phone by accident from a height of 4 feet, right onto the metal flooring at the bottom of an escalator, only to see just some minor dents around its metal trim.
What's noticeably different, though, is that the Nexus 6 takes things to a grander scale when it comes to size! In fact, it looks more like a stretched out version of the Moto X – one that pushes it very well into the phablet category. Immense, that's a word that best describes the phone, since it's wider and taller than the majority of other prized phablets in the space right now. Add to the fact that its plastic body feels very slippery, you'll want to make sure to have a firm grip on it to prevent it from slipping.
Our particular review unit is the midnight blue option, which employs a two-toned color scheme to give the phone a pleasant contrast. As an alternative, though, the cloud white model consists of a mostly white body – with a silver metal trim bezel. Clearly, the design isn't particularly new, nor is it as unique factoring in the Moto X's unique customization, but given the humbler design of last year's Nexus 5, we're really glad to see that the Nexus line once again favors a sturdier build quality.
Following the Moto X's design to the teeth, the Nexus 6 features the same set of buttons and ports throughout its body – and they're even in the same placements as before. With its power button and volume controls on the right side, they're in convenient spots that are easily accessed by our fingers. On the bottom edge, we have its microUSB 2.0 port for charging/data connectivity, with the 3.5mm headset jack and nanoSIM slot on the top.
Lucky for all of us, the Nexus 6 is able to emit music through both of the speakers on its facade – whereas the Moto X was only able to do it through its bottom speaker. Going with this setup, it's blessed with true stereo support that ideally projects audio towards us.
Flipping it around to the rear, instead of featuring the same number crushing 21-megapixel camera of the
Motorola DROID Turbo
, the Nexus 6 opts to employ a 13-megapixel auto-focus camera – one that's accompanied with a dual-LED flash ring and an f/2.0 aperture lens. One can presume it's the same thing used by the Moto X, which proved to deliver underwhelming results, so we're crossing our fingers hoping for improvements.
Display
With quad-HD goodness in tow, the screen is remarkably detailed and sharp, but it lacks the same high-quality characteristics evident in Sammy's AMOLED screens.
A surprising treat, one that catapults it into an elite club that has few members at the moment, the Nexus 6 is adorned with a ginormous sized 5.96-inch 1440 x 2560 quad-HD AMOLED display. That's a whole lot of screen to work with, as our fingers strain to reach the corners of the display – so two-handed operation should be enforced using it. Despite that, we can't deny that its pixel density count can't be overlooked, mainly because it chimes in at a higher-than-normal mark of 493 ppi. It all boils down to a super detailed screen that makes it nearly indistinguishable to detect individual pixels with the naked eye – even looking at it very closely.
Certainly, it's a significant departure over the Moto X's display, one that employs 1080p resolution, but the Nexus 6 actually exhibits many of the same characteristics we've seen with the Moto X already. For example, its screen's brightness output, a lowly 270 nits, is marginally better than that of the Moto X, but it's still rather weak when compared to most of the other prized stallions floating around. When it comes to the actual quality of its color reproduction, we're mostly pleased with the color balance and overall temperature of 6550 K. Overall, it's a rather oversaturated display, which is typical for AMOLED tech, but we still have to acknowledge the fact that there's a nice balance between the primary colors, meaning that whites appear truly white, and all other colors don't deviate too much from their reference hues, except for the fact that they are more intensive than normal.
As far as contrast goes, Motorola has chosen to boost things up a bit, so expect a somewhat pumped up display with the Nexus 6. The average gamma reading may seem a bit low at 1.94, but this has to do with the added contrast boost to the display, which has the highlights increased in brightness, while the shadows stay close to their normal levels.
Display measurements and quality
Recommended Stories