Google Glass shows off its romantic side
3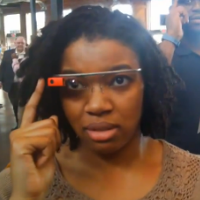 During Valentine's Day, Google decided to record several marriage proposals using Google Glass. Perhaps someday, way in the future, Google Glass will become part of the typical marriage proposal. Heck, with both parties wearing the connected specs, the two don't even have to be in the same room, much less the same continent. Of course, that sort of defeats the idea of getting engaged in the first place.
For those who want a traditional proposal, Glass lets the man get down on your knee with both hands free (unlike using a smartphone), and will record both viewpoints of the magic moment. Of course, the word traditional and Google Glass don't really go together now, do they?
Google Glass is still a novelty, and it might take sometime before guidelines develop as to when it is proper to don them. Since Google put these videos all together, we can't say for sure that Google Glass will become as much a part of proposing as getting down on one knee and slipping the engagement ring on her finger. Time will tell, as they say. Regardless of what happens in the future, this is the first time we've seen the romantic side of Glass. We've seen another side of Glass
that deals with lust
, but this is a lot different.
source:
Glass
via
ReCode
,
Gizmodo