Sell your old phone on eBay and get paid instantly
6
So let's say that you just purchased the
Apple iPhone XS Max
and you have an
iPhone X
to sell. Or suppose the
Google Pixel 2 XL
you used all last year has been replaced with the new
Pixel 3 XL
, and you'd like to get rid of the older model. Today, eBay announced a new program called Instant Selling that quickly and easily turns your old phone into an eBay voucher that can be used for anything on eBay, including a new phone.
According to eBay, the entire process of selling your old phone and receiving an eBay voucher for payment takes minutes. Those listing a handset don't have to wait for their phone to sell to receive the voucher. And eBay says that you'll receive more money selling the handset through its new program than you'd receive from a trade-in provider.
A recent survey commissioned by eBay found that 61% of Americans have never sold or traded in a phone that they no longer use. 40% have two or more older handsets collecting dust in a drawer. Instead of letting these devices waste away, you can sell them on eBay and potentially earn an instant voucher worth hundreds of dollars toward a new phone, or anything else you see on eBay.
"Millions of Americans have unused phones in their homes and simply don't realize how much their devices are worth, probably because trade-in values are typically so low. With Instant Selling, people can find out exactly how much their phone is worth, and sell their phone within a matter of minutes to immediately help fund the holidays, or maybe something off their personal wish list."-Alyssa Steele, Vice President of Hard Goods, eBay
The only phones that currently can be sold using Instant Selling are Verizon, AT&T, and unlocked iPhone models starting with the 16GB
iPhone 6s
through the 256GB
iPhone X
. Verizon, AT&T and unlocked versions of the
Samsung Galaxy S7
through the
Galaxy S9+
are also eligible to be sold with this platform. Next month, eBay will add phones from T-Mobile and Sprint, along with Google Pixel and LG handsets.
The entire process requires that you follow only five steps:
Visit the Sell phone page at www.ebay.com/s/phone.
Enter information about your handset to determine if its eligible for instant selling.
Add images of the phone, click on List and accept the terms.
Receive an instant voucher which can be used to buy a new phone on eBay.
Print out a dedicated eBay shipping label and ship the old phone.
The auction site says that this process will net you more than if you sell your old handset using Gazelle.com, EcoATM, AT&T, Apple Give Back program and Verizon. If interested, click on the sourcelink below.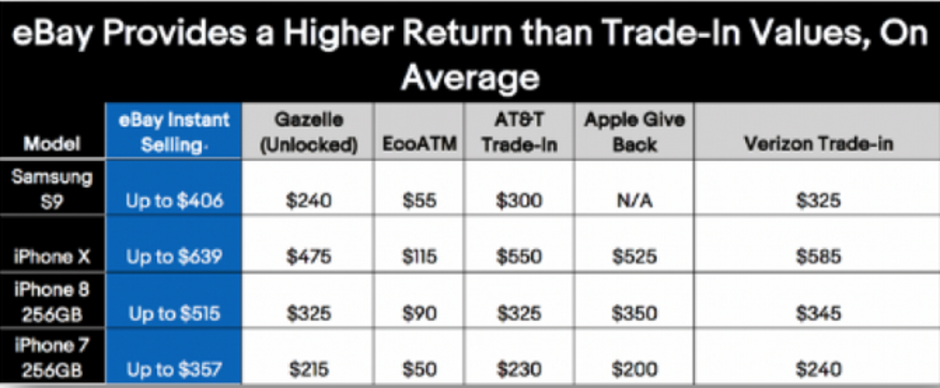 According to eBay, you'll make more money selling your old phone using their new program