How fast are the Galaxy S10 5G download speeds? A carrier test gives a hint
4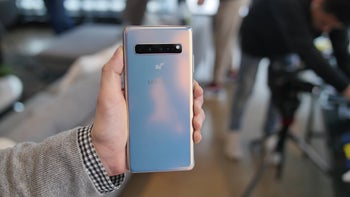 Samsung will soon introduce a top-shelf
Galaxy S10 5G
model in Korea which would then trickle down to US carriers like Verizon. Besides the crazy 12GB RAM/1TB storage version, and the record six cameras in total, the third unique feature of this particular S10 variant is said to be... you guessed it... the built-in 5G modem.
While waiting for this puppy to be released next month, the largest career in Korea, SK Telecom,
ran a successful test
on its budding next-gen network, aggregating the 5G with 4G LTE components, and the end download speed results on the S10 5G were breathtaking.
How about 2.65Gbps download speeds? That's what the career was able to achieve, downloading a 2GB movie in six seconds flat. The local regulators have delayed giving the green light on the nationwide 5G network start as there are still pricing and consumer device issues to be sorted out.
Instead of this month, the S10 5G release is most likely being delayed for the end of April, as originally speculated, so not much to wait before we can see the first real-life tests of a commercially available 5G network on a retail phone. The S10 5G will be followed by the
Galaxy Fold
and the
LG V50 5G
in Korea, both scheduled for May release.