Poster reveals Galaxy A9 Star, A9 Star Lite will be unveiled June 7
6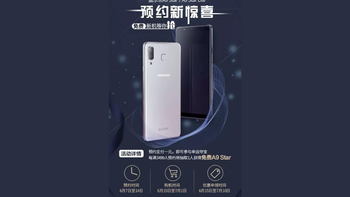 Following a number of leaks, Samsung's plans to launch an
iPhone X
lookalike under the
Galaxy A9 Star
name have become more and more certain. Now, however, thanks to a newly-leaked poster, it looks as though Samsung will be launching a cheaper variant too, dubbed the A9 Star Lite.
It's unclear exactly what will differentiate the Lite variant on the inside, but a lower-end processor and reduced amounts of memory and internal storage are possibilities. Nevertheless, on the design side of things, it is expected to be identical to the regular Galaxy A9 Star. This means the rear will feature a dual-camera setup that is positioned vertically in the corner, with a dual-tone LED flash set to accompany this. Also, a rear-facing fingerprint sensor will be positioned just above the center of the panel. Moving over to the front, a large 6.3-inch Infinity Display will be present, with reduced bezels wrapping around it. On a final design note, the smartphone looks set to boast a dedicated
Bixby
button.
Now, in addition to revealing plans for a budget alternative, the poster in question also shows various release details. Specifically, the image confirms
Samsung
will be announcing the devices on June 7. After this, customers will be given 1 week to sign up for an upcoming flash sale period China that will begin on June 15 and end on July 1 at the latest. However, if demand is high enough, the sale could end ahead of time.
Outside of the Chinese market, it's unclear when the
smartphones
will become available to consumers, but previous information revealed plans to also launch the device in Cambodia, Indonesia, Malaysia, Singapore, Thailand, and Vietnam. However, it still remains to be seen if it will be made available outside of the Asian continent at a later date.