IDC says smartphone shipments declined last year and won't resume growth until 2019
6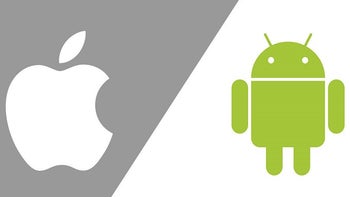 According to research firm IDC, global smartphone shipments declined .3% last year to 1.465 billion units. Following an expected .2% decline in shipments to 1.462 billion handsets this year, IDC sees the market turning around with 3% annual growth from 2019 onward. By 2022, 1.654 billion phones will be delivered IDC estimates, which would result in a five year compounded annual growth rate of 2.4%.
IDC computes that Android flavored handsets will make up 84.8% of the smartphones shipped globally this year. That comes to 1.246 billion phones. Shipments of iOS powered handsets are expected to reach 221.4 million in 2018, for a market share of 15.1%. IDC forecasts that in 2022, Android phones delivered will reach 1.411 billion units (85.3% of total global shipments) for a compounded annual growth rate of 2.5%. That year, iOS shipments will rise to 242.5 million phones IDC forecasts. But with a compounded annual growth rate of 2.4%, slightly under the total smartphone market's expected 2.5% compounded annual growth rate, the iPhone's market share will decline slightly to 14.7% four years from now.
Keep in mind that 2018-2022 shipments are all estimated, and real-life results could be much different. For example, earlier today we told you about Daniel Ives, an analyst at GBH Insights who forecasts that
Apple will sell 350 million iPhone handsets over the next 12 to 18 months
. Part of this forecast is based on the 60 million to 70 million iPhone owners in China that Ives says are due for an upgrade.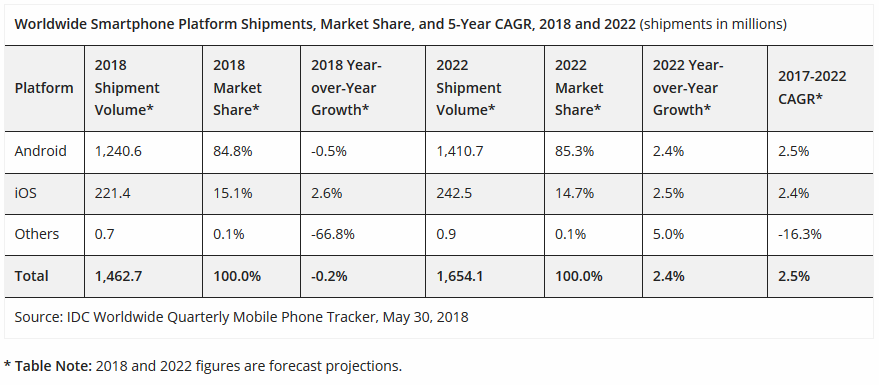 IDC forecasts growth returning to the smartphone market starting in 2019
Recommended Stories