GSM Motorola XOOM in silver caught on video in Dubai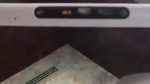 The Motorola XOOM has been all over the map recently, and in all different variations. From a recent visit to the FCC for the Wi-Fi only model of the tablet, as we
reported
, to a recent trip to Dubai for the GSM variant (which was video taped as you can see below), the Honeycomb flavored tablet has become a famous world traveler thanks to its recent television appearance during the Super Bowl.
While Verizon will have an exclusive on the Android 3.0 equipped tablet when it is launched later this month, AT&T's Chief Marketing Officer David Christopher has let it be known that out of the 12 Android devices coming to AT&T this year, one will be the Motorola XOOM. With a 4G LTE model in the works for Verizon, one could easily be produced for AT&T's LTE pipeline later this year. The carrier is said to be considering an option for customers to share data across multiple devices. For AT&T's Christopher, "That is one (plan) that potentially is interesting."
But we digress. We originally started this story talking about how the Motorola XOOM has been everywhere running the gamut from CDMA model to GSM, and now here is a silver variant enjoying itself in Dubai.
source:
AllThingsD
via
androinica