Fulton Innovation ready to charge ahead at CES, wirelessly of course
0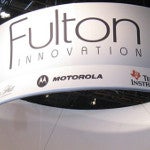 Fulton Innovation,
the
company behind the Qi technology for the WPC
, announced that it plans on showing off the latest in
wireless charging solutions
at CES. The company said it will be showing off technological breakthroughs in wireless power with demonstrations of "
multi-range, multi-protocol, and multi-surface application".


Among the techniques that Fulton will be showing off will be a way to
charge through metal surfaces
,
charge a cell phone through a handbag
and in an amazing display of the latest technology,
light up a copy of Entertainment Weekly
on a shelf using its eCoupled intelligent wireless power technology. The magazine will light up thanks to a low cost method of flexible, wireless printed electronics.
The company's CES booth will also feature the inside of a car that supports wireless power. Electronic devices can be put in the glove compartment, on the dashboard or in the center console and charge up without a wire in sight. Also on display will be a Telsa Electric Vehicle that can be recharged wirelessly, thus showing off the wide range of
low to high power
wireless charging needs that Fulton Innovation can handle.
David Baarman, Director of Advanced Technologies for Fulton Innovations said, "
We are excited to be back at CES this year to unveil new advances in wireless power, including spatial freedom capabilities that provide consumers the flexibility to move devices around a charging surface. The ability to charge through metal surfaces opens the door for phone manufacturers currently building phones with metal backs to incorporate wireless power capabilities without compromising design
.
Our continued development of eCoupled and our work with our many partners is broadening the capabilities of wireless power and proving that there are continuously fewer limits to what we can do with this technology
."
source: FultonInnovation