Full-length motion picture Olive hits Kickstarter, is the first one shot entirely on a smartphone
13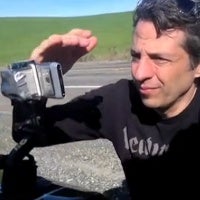 The
Nokia N8
is still the reigning smartphone champ with the unmatched quality of tis 12-megapixel Carl Zeiss lens. But it's a smartphone after all, many would think, and what is it good for? How about a full-length motion picture shot entirely on the N8, carrying the core essence of indie film making? Ladies and gents, that's now a reality with Olive, the first movie filmed with no other camera than the one on a smartphone.
Directors Hooman Khalili and Patrick Gilles took on the ambitious task and we're not talking just about a YouTube video. This is
cinema-ready
waiting for prime time at movie theaters if it gets the $300,000 backing on Kickstarter. The only tweak Khalili and Gilles used is equipping the N8 with a 35mm lens adapter to get that bokeh, shallow depth of field effect you're so used to see in movies.
The cast of the film is also pretty impressive -
Gena Rowlands
, twice nominated for Academy Awards is one of the stars. Yep, that's the very same actress you probably know from the tear-jerking film
The Notebook
. Others from the cast include John Scurti, Chris Maher, and Ruby Alexander. The sound was also professionally taken care of with Skywalker Sound, a George Lucas-owned studio, responsible for the effects.
The movie Olive is interesting for one more reason, though. It is a perfect examples of the power that smartphones can give us even now. You no longer need the expensive equipment and the backing of a movie studio, to even make a full-length feature film. The Nokia N8 was released more than a year ago and is relatively affordable now, but just think about the possibilities and what you can do with the camera on your smartphone. Check out the
trailer
below to see and get inspired by Olive.