Froyo expected to arrive next week for Vodafone customers sporting a Nexus One
This article contains unofficial information.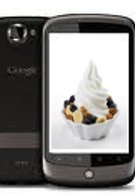 Holding onto a Nexus One isn't necessarily a bad thing when you think about how it's still positioned towards the upper echelon of the spectrum in the wake of some serious power packed Android smartphones of late. US owners of the Nexus One are taking advantage of all the pleasures seen with
Android 2.2 Froyo
, however, Vodafone customers in the European market will soon be able to experience the same thing. Expected to become available some time next week according to Google, Froyo for Vodafone's specific version of the Nexus One will be in full effect via an OTA update at first. Still, it's not going to go out to all handsets at once – so just expect some delay if you don't initially see it. The difference in release between the US launch and this one is the fact that Vodafone wanted Froyo to be tweaked a little bit – which is evident when Google Goggles and the Amazon MP3 store are omitted in the ROM. Thankfully, a quick check to the Android Market will get those applications back onto the smartphone. Finally, there will be no security set by default when you initialize Wi-Fi tethering for the first time – so you'll need to manually set on WPA security to prevent unwanted individuals from leeching onto your connection. It won't be long now before Vodafone trotting Nexus One owners can reap all the benefits of Froyo.
HTC Nexus One Specifications
|
Review
via
AndroidCentral