FreedomPop switches to Sprint's 3G Ev-Do network in anticipation of future move to LTE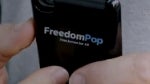 MVNO FreedomPop is beginning a temporary switch from Clearwire's limited WiMAX network to Sprint's coast to coast 3G Ev-Do network. The carrier eventually plans on moving over to Sprint's nascent 4G LTE network, but according to FreedomPop CEO Stephen Stokols, "
The Sprint LTE buildout is not moving as fast as we'd like
." Sprint had hoped to cover 250 million POPs with its LTE signal by the end of the year, but has since cut that back to 200 million POPs. The first FreedomPop device that will be switched over to Sprint's Ev-Do network is the new
Overdrive Pro
mobile hotspot.
"The biggest criticism with our service to date has been the coverage gaps in certain parts of the country. Starting today, FreedomPop users can connect to the Internet across the entire nation leaving no reason to continue paying high monthly Internet bills for Internet from large, expensive carriers."-Stephen Stpkols, CEO, FreedomPop
Once the switch is finally made to Sprint's LTE pipeline, the carrier is expected to offer sleeves that fit over phones like the
Samsung Galaxy S III
and clips for the Apple iPad, both of which provide low-cost LTE service to the appropriate device. FreedomPop offers data only plans with customers receiving 500MB of
free data
a month. The company makes money when customers buy additional data or purchase usage alerts, speed boosts or data sharing. CEO Stokols said that the freemium strategy is working with 40% of customers purchasing additional data while 49.8% make a purchase of additional data or a service. While profit margins are in the black, the company is spending money on developing more LTE products.
Over the next 6 to 10 weeks, FreedomPop will start offering voice and text through a deal it has with textPlus. While pricing has not yet been announced for those services, the MVNO said that it would offer those services over WiMAX and Sprint's Ev-Do network instead of using its voice network.
source: FreedomPop via
FierceWireless
LOS ANGELES, CA, APRIL 24, 2013 – FreedomPop, America's new free Internet company, today announced its expansion to Sprint's 3G network guaranteeing full nationwide coverage across the US. The company is now accepting orders for its new 4G/3G MiFi hotspot device, called the FreedomPop Overdrive Pro. FreedomPop users will now be able to access the company's robust 4G network while having complete, nationwide backup access on 3G.



"The biggest criticism with our service to date has been the coverage gaps in certain parts of the country," said Stephen Stokols, FreedomPop's CEO. "Starting today, FreedomPop users can connect to the Internet across the entire nation leaving no reason to continue paying high monthly Internet bills for Internet from large, expensive carriers."



The FreedomPop Overdrive Pro becomes the company's first device to run on Sprint's network. The Overdrive Pro will allow up to five devices to connect to it and get speeds up to 8 mbps down. In addition to FreedomPop's free 500 MB plan, users can also purchase a 2 GB or 4 GB 4G/3G plan with no contract or annual commitment at rates up to 50 percent less than major carriers.



FreedomPop is also planning to launch a new suite of devices on Sprint's LTE network later this year in line with Sprint's nationwide build-out. LTE devices will also have the ability to roam on 3G where needed.



"We're planning on launching our full national LTE roll-out by the end of this year, but until then, adding nationwide 3G coverage gives users the ability to connect from anywhere," Stokols added.



To order the FreedomPop Overdrive Pro and free internet service, go to www.FreedomPop.com/OverdrivePro while supplies last.



About FreedomPop

Founded in 2011, FreedomPop is America's new telecoms company backed by Mangrove Capital, DCM and Skype Founder Niklas Zennstom's Atomico. Its aim is to provide disruptive Internet services ensuring that no one is left off the "connected grid." FreedomPop launched its free broadband service on Clearwire's 4G network earlier this year and is scheduled to go live with Sprint in early 2013. Visit www.FreedomPop.com for more information.

Read more: FREEDOMPOP EXPANDS COVERAGE NATIONWIDE WITH SPRINT'S 3G NETWORK - FierceWireless http://www.fiercewireless.com/press-releases/freedompop-expands-coverage-nationwide-sprints-3g-network#ixzz2RPMvwpS2
Subscribe at FierceWireless