Taco Bell is giving T-Mobile subscribers a free run for the border
3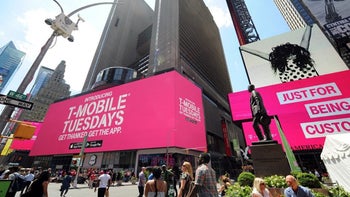 A commercial run during yesterday's (yawn) Super Bowl brings some exciting news for T-Mobile subscribers. Free phones? Nope. 5G mobile service? Nah. A haircut for CEO John Legere? Not a chance. Free Tacos? Absolutely. The nation's third largest carrier is partnering up with Taco Bell to give T-Mobile customers a free taco every week. It's all part of T-Mobile Tuesdays, the weekly program that T-Mobile uses to thank its subscribers by giving them discounts and freebies.
The partnership between T-Mobile and Taco Bell kicks off tomorrow, February 5th. T-Mobile subscribers will have to claim the free food through the T-Mobile Tuesdays app. If you are a customer of the wireless provider, you need to download the T-Mobile Tuesdays app
on your iOS
or
Android phone
to collect the free seasoned beef or bean Soft Taco or Crunchy Taco, which can be picked up any day of the week. You will also have to open an account at TacoBell.com, and add a credit card number. The card will NOT be charged for the free taco, and you can even order it online.
T-Mobile says that the results of a survey it has taken show that for a free taco, 29% of Americans would get tackled by Patriot's Tight End Rob Gronkowski (although his tackling technique failed miserably against the Miami Dolphins' Kenyan Drake; just saying). 15% of Americans said that they would streak in Central Park for a free taco, and 12% would wrestle a skunk.
"Tacos and Tuesdays go to together like magenta and … well … everything. A giant stage like the Super Bowl deserves an announcement as big as Left Shark became, so we partnered with the biggest in the biz – Taco Bell – as an epic THANKS to the best customers in wireless!"-John Legere, CEO, T-Mobile
The T-Mobile Tuesdays program has been running since 2016 and the carrier has given away more than 186 million discounts, freebies and other deals. T-Mobile says that its customers are receiving up to $966 each via the T-Mobile Tuesdays app every year.
Check out the Super Bowl ad by clicking on the video at the top of this article.