Foxconn denies strike is underway at iPhone assembly plant
54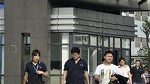 Just as news of a strike involving
thousands of workers at Foxconn's Zhengzhou complex
made its way around the world, the Apple iPhone producer denies any such strike took place.
China Labor Watch said that 3,000 to 4,000 workers went on strike due to over-exacting quality control requirements and demands that shifts work through a Chinese National Day holiday. Despite what we may have seen in video broadcast reports, Foxconn states that the plant only experienced two brief disruptions several days ago.
The company states that on October 1st and 2nd, disputes arose and were "immediately addressed" and that production was running on schedule. Foxconn also noted that anyone who worked on National Day volunteered and were paid triple-time as required by the law. Conflicting with that corporate communication however is China's official Xinhua news agency, which reports that quality inspectors refused to work after one of them was beaten by workers who were agitated over the inspection demands.
Foxconn simply noted that it had received instructions from Apple to enhance the quality inspections of the iPhone 5 in response to customer complaints. The contract manufacturer has been under near continuous scrutiny to one degree or another, mostly over working conditions. Foxconn employs over 1-million people and is the worlds largest contract manufacturer. In addition to making most of the iPhones and iPads, Foxconn also makes products for HP, Dell and Nokia.
source:
Reuters