Foxconn allegedly working overtime to ensure sufficient Xiaomi Mi 5 stock at launch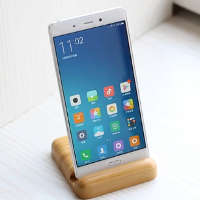 According to a Weibo user quoted in the Chinese media, Foxconn is allegedly working overtime to ensure that there will be no shortage of Xiaomi Mi 5 units when the heavily anticipated smartphone finally hits the market. According to previous rumors, the
Xiaomi Mi 5
will be launched after the Chinese Lunar New Year, an event that will be celebrated on February 8th.
The source of the information presented in the Chinese media is a picture posted on Weibo showing a banner allegedly hanged at a Foxconn - the company tasked to assemble the Xiaomi Mi 5 - factory. The banner reads "Guarantee to Supply Mi5, Strive to Deliver the Highest Quality." In other words, the Foxconn workers are said to now be working overtime to ensure that there will be no Xiaomi Mi 5 supply shortages at launch.
According to a myriad of leaks and rumors, the Xiaomi Mi 5 will be based on the Qualcomm Snapdragon 820 chipset, a SoC that integrates a 2.2GHz quad-core Kyro CPU and an Adreno 530 GPU. Rumor has it that Xiaomi originally planned to launch the Mi 5 in 2015 with a Snapdragon 810 chip on board, but that the company opted to wait until the Snapdragon 820 becomes available. Although it will not be the first smartphone to be formally introduced with a Snapdragon 820 SoC on board, as that honor already belongs to the
LeTV Le Max Pro
, the Xiaomi Mi 5 is likely to be the first major device to utilize Qualcomm's latest and greatest SoC.
Other rumored hardware specifications include a 5.2-inch display with a resolution of 1440 by 2560 pixels (QHD), 3 or 4GB of RAM memory, and 32GB of integrated storage space. In the imaging sector, the Xiaomi Mi 5 is expected to land with a 16MP primary camera and a high-resolution 13MP selfie sensor on the front. All of these specs are expected to be powered by a 3600mAh Quick Charge-enabled battery.
On paper, the Xiaomi Mi 5 is shaping up to be one of the hottest smartphones of the first half of 2016. Unfortunately, however, the handset is not likely to land on US shores through official channels. Furthermore, even if you'll be able to import one in the US, the handset may not be fully compatible with the LTE bands used by US carriers.