Foxconn Brazil workers threaten with a strike over deteriorating work conditions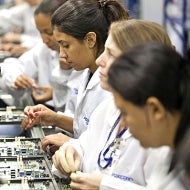 Taking a page off the book of
employees in Foxconn's motherland
, its Brazilian factories are now complaining about working conditions. About 2, 500 people are threatening with strike if measures aren't taken to address the deteriorating atmosphere in which they have to assemble iPads and other assorted gadgets.
The reason for the newest brouhaha in the Foxconn universe is the extra amount of workers it hired, without planning for their existence outside the conveyor belts. People had to ride in overcrowded buses to work, as no additional transport was provided, and trucks had to haul water in, not to mention complaints about the food.
Union guys that organized the Foxconn Brazil workers say they have given an ultimatum of 10 days for working conditions to be improved upon, or they'll rename
the city street that is called Steve Jobs
. We kid, the unions threatened with a general strike after the 10-day period.