"Serious and pressing noncompliances" found in Foxconn factories, Apple promises change
18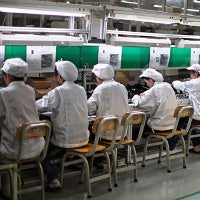 After a month-long investigation the Fair Labor Association (FLA) has found "serious and pressing noncompliances" in Foxconn factories, the main manufacturer for Apple electronics. The FLA interviewed 35,000 random Foxconn workers and concluded that there is excessive overtime and along with it overtime compensation issues, health and safety risks in plants where iPhones and iPads are made.
The average Foxconn worker has a 56-hour work week, 7 hours more than the 49 hours Chinese labor law allows. Overtime is the biggest concern as workers often don't get their full pay. The reason for this is that overtime is broken down in 30-minute intervals, so if an employee only checks in for 29 minutes of overtime, he won't get compensated. Additionally, half of the workers said they've been
working for 11 days or more in a row
.
To put working conditions in monetary perspective, the minimum wage in the Shenzhen province of China where Foxconn is located is around $220 (1,500 yuan) a month. Foxconn employees start with a monthly salary of nearly $265, which gets bumped up to $325 after their probation period ends.
Social responsibility has a cost.
The report will have serious consequences as Foxconn promises to lower overtime without decreasing pay, and this could bring prices up not only for Apple products but for consumer electronics in general. Samsung, Sony, Nintendo and Motorola all rely on Foxconn and will possibly hike prices as consequence, but this won't happen overnight and for consumer the consequences won't be immediately visible.
"Social responsibility has a cost. We are asking factories to make significant investment. We all have to be willing to share that cost," FLA CEO Auret van Heerden said in an interview for ABC News.
Apple and Foxconn in particular agreed to fix the overtime issues by hiring "tens of thousands" of new workers and cut overtime to the legal limits. The Chinese manufacturer will also build additional housing for the new employees.
Foxconn will be breaking the law for the next 15 months.
We can only applaud Apple's attempts to improve manufacturing conditions in its overseas plants, but the move to worker conditions transparency came only after employee suicides, incidents in plants, and after reports pressured the company. Activists from TheSumOfUs point out that Apple and Foxconn have been given time until July 2013 to change and that's too much given Cupertino's overnight hiring sprees when demand surges.
"Foxconn will be breaking the law for the next 15 months. If Foxconn can't hire workers quick enough, Apple would just have to reduce demand. We shouldn't be buying things that are produced illegally,"
the activist organization said.
The full report is now available, so jump to the source below to read it and draw your own conclusions.